News Archive 2019-2020
Our colleague and dear friend, Distinguished Professor Louise Kellogg, passed away on April 15, 2019.  Louise built innumerable ties among people, using her outstanding science, trans-disciplinary vision, and dedication to equity. Her family, friends and colleagues around the world are grieving her loss. Messages of sympathy and memories of Louise may be sent to memories-of-louise@ucdavis.edu. If you wish to have your message included on this web page, please let us know.
Louise Kellogg Memorial Fund. Make a gift in support of first generation students studying Earth and Planetary Sciences at UC Davis. This support represents one of the many passions of Distinguished Professor Louise H. Kellogg.
---
Our colleague and dear friend, Senior Lecturer Emeritus Richard Cowen, passed away on January 8, 2020. A gentleman and a scholar, Richard's teaching excellence inspired thousands of students, as well as UC Davis Earth and Planetary Sciences faculty and staff. Messages of sympathy and memories of Richard may be sent to memories-of-richard@ucdavis.edu. If you wish to have your message included on our Memories of Richard page, please let us know.
---
Analysis of Landslide Kinematics Using Multi-Temporal Unmanned Aerial Vehicle Imagery, La Honda, California |

2020 E&EG Best Publication Award
Former EPS graduate student Jordan Carey paper, "Analysis of Landslide Kinematics Using Multi-Temporal Unmanned Aerial Vehicle Imagery, La Honda, California," EEG Volume XXV, Number 4, pp. 301-317, has been selected to receive the AEG Publication Award for 2020 - the best paper from the last four issues of E&EG. Jordan completed his M.S. thesis on this topic, under Nicholas Pinter's mentorship, while at UC Davis. Nicholas Pinter is also one of the co-author's on this paper.
From UC Davis: Only two hours by car from Davis, Berryessa Snow Mountain National Monument is one of the world's best living laboratories for studying plate tectonics. "Exploring the Berryessa Region: A Geology, Nature and History Tour" provides a lively guide for touring the monument's natural wonders by car. The book was inspired by field trips led by the late Eldridge Moores, Distinguished Professor Emeritus of geology, and his wife, Judy, among the contributors. The trips drew hundreds of people to Berryessa in support of the yearslong lobbying effort that led to the national monument designation.
Mike Oskin | UC Davis Graduate Program Advising and Mentoring Award
Mike Oskin is a 2020 recipient of a UC Davis Graduate Program Advising and Mentoring Award. The award recognizes faculty providing outstanding service in advising and mentoring at the program level. Graduate advising and mentoring are vital for guiding students through their degrees and professional development, while also helping to ensure their overall success and well-being.
NASA's FINESST 2020, Planetary Science division | Supratim Dey
Geology graduate student Supratim Dey is a recipient of a NASA's FINESST scholarship (Future Investigators in NASA Earth and Space Science and Technology). Entitled: Establishing Planetary Genealogy of Iron Meteorites and Pallasites using Nucleosynthetic Isotope Anomalies of Chromium and Titanium, the primary objective of the proposed research is to establish the genealogy of important groups of planetary materials and to determine the provenance of their parent bodies in the early Solar System using nucleosynthetic isotopic anomalies in meteorites.
From Eos: "When is a planet not a planet? Where does helium rain? How can water be solid and liquid at the same time? For answers, scientists put common planetary materials under extreme pressure and watched what happened next." Sarah Stewart is one of the featured scientists in the article.
Curtis Williams, Sujoy Mukhopadhyay, Max Rudolph, and Barbara Romanowicz's research, "Primitive Helium Is Sourced From Seismically Slow Regions in the Lowermost Mantle", published in Geochemistry, Geophysics, Geosystems, is among the top 10% most downloaded papers. Among work published between January 2018 and December 2019, their paper received some of the most downloads in the 12 months following online publication.
Isabel Montañez and Dawn Sumner | California Academy of Sciences Academy Fellows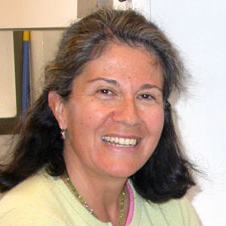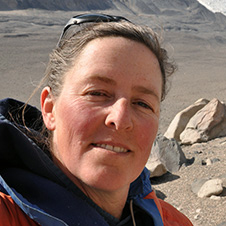 Isabel Montañez and Dawn Sumner have been elected Academy Fellows. From the California Academy of Sciences: A governing group of approximately 450 distinguished scientists, Academy Fellows have made notable contributions to one or more of the natural sciences and help further the reach of our research and education initiatives through individual and collaborative efforts with Academy researchers. Nominated by their colleagues and selected by the Board of Trustees, Academy Fellows remain members of the Fellowship for life.
From Florida Museum: Scientists have formalized an alternative set of rules 285 years after the publication of the first edition of "Systema Naturae," the landmark volume marking the beginning of the rank-based system for categorizing and naming life. Known as the PhyloCode, this system defines scientific names based on evolutionary relationships. Sandy Carlson contributed several articles to this monumental task, which took nearly 10 years to complete.
2019-2020 ARCS Northern California Scholars | Michael Huh and Tyler Schlieder
Geology Graduate Students Michael Huh and Tyler Schlieder are 2019-2020 ARCS Northern California Scholars. ARCS Scholars are selected annually by qualifying departments of science, engineering and medical research within ARCS Foundation's 51 academic partner universities and colleges.
Bill Glassley | "A Wilder Time: Notes from a Geologist at The Edge of Greenland's Ice"
"A Wilder Time" by UC Davis Earth and Planetary Sciences Research Associate Bill Glassley is one of the titles on the Saroyan Prize shortlist for non-fiction. The Saroyan Prize is a biennial competition jointly awarded by the Stanford Libraries and the William Saroyan Foundation. It commemorates the life, legacy and intentions of William Saroyan - author, artist, dramatist, composer - and is intended to encourage new or emerging writers, rather than to recognize established literary figures. 
Nicholas Pinter is a newly elected Fellow of the Geological Society of America. GSA members are nominated by existing GSA Fellows in recognition of a sustained record of distinguished contributions to the geosciences and the Geological Society of America through such avenues as publications, applied research, teaching, administration of geological programs, contributing to the public awareness of geology, leadership of professional organizations, and taking on editorial, bibliographic, and library responsibilities.
From UC Davis News: A new understanding of our planet's deepest earthquakes could help unravel one of the most mysterious geophysical processes on Earth. Magali Billen builds numerical simulations of subduction zones, where one plate sinks below another, to better understand the forces controlling plate tectonics. Her recent work helps explain the distribution of deep earthquakes, showing that they most often strike in regions of "high strain" where a sinking tectonic plate bends and folds. Her findings were published May 27 in the journal Science Advances.
Sandra Carlson | One of the Most Downloaded Articles in the Past Year - Annual Review of Earth and Planetary Sciences
Sandra Carlson's research article The Evolution of Brachiopoda was one of the Annual Review of Earth and Planetary Sciences' most downloaded articles in the past year. The Annual Review of Earth and Planetary Sciences, in publication since 1973, covers significant developments in all areas of earth and planetary sciences, from climate, environment, and geological hazards to the formation of planets and the evolution of life.
From International Business Times: A new study has revealed that the molten core of Earth might be leaking iron. According to the authors of the study, it is possible that the core has been leaking iron for billions of years now. The new study was conducted by a team of scientists led by geology professor Charles Lesher of the University of California Davis. Their findings were presented in a new study published in the journal Nature Geosciences.
THANK YOU to Robert and Lisa Campbell and all donors who chose to support the Summer Field Geology Challenge! Your generosity will ensure that our students continue to benefit from the immersive experience of spending six weeks applying knowledge gained in the classroom to real-world problems!
Give Day is 12 pm April 17 – 5 pm April 18, 2020. Help support our
Summer Field Geology
course, a class considered to be the most valuable in the geology curriculum. Your gifts will ensure students continue to benefit from the immersive experience of spending six weeks applying knowledge gained in the classroom to real-world problems in the field. Once 30 gifts to this fund are received, $12,500 from Robert and Lisa Campbell will activate on Give Day. Challenges are specific funding opportunities backed by a donor who has already made a substantial donation.
New York Times | by Christopher Flavelle and John Schwartz: "...FEMA requires local officials to ensure that the ground floor of every new or repaired building is at least as high as the expected peak of a major flood. Yet as many as 112,480 structures nationwide fail that test despite being built after the rules took effect, typically decades ago, according to FEMA data analyzed for The Times by Naomi Kalman, a geographic information specialist at the University of California, Davis, and her colleagues."
Ryosuke Motani | One of the top 100 downloaded papers for Scientific Reports in 2019.
Ryosuke Motani's research article Early Triassic marine reptile representing the oldest record of unusually small eyes in reptiles indicating non-visual prey detection received 10, 009 article downloads in 2019, placing it as one of the top 100 downloaded papers for Scientific Reports in 2019.
 
From abc10.com: The last drought in California was so catastrophic, some of the hardest hit communities still haven't recovered. Dr. Jeffrey Mount, University of California, Davis professor emeritus and member of the Public Policy Institute of California, refers to the old adage, "The longer it's been since the last drought, the closer we are to the next. We know it's going to happen. It's just a matter of time. Does it begin next year?"
Dawn Sumner, a 2003 Chancellor's Fellow, is featured in the video marking the 20th anniversary of the Chancellor's Fellows Fund. At UC Davis, we encourage our faculty to think big, dream big—and pursue discovery without constraint. One way we do this is through the Chancellor's Fellows program. Outstanding early career faculty who are named Chancellor's Fellows receive unrestricted funding in the form of a cash award for their research, teaching, service activities or creative work. 
Cathy Busby is the recipient of the 2020 GSA Mineralogy, Geochemistry, Petrology, & Volcanology (MGPV) Division Distinguished Geological Career Award. The award goes to an individual who, throughout his/her career, has made distinguished contributions in one or more of the following fields of research: mineralogy, geochemistry, petrology, volcanology, with emphasis on multidisciplinary, field-based contributions. This award emphasizes a geologic and multidisciplinary approach. Geological work is by nature generalistic and has an important field component, with Earth as the natural laboratory.
Continents of the Underworld Come Into Focus | Curtis Williams
from Quanta Magazine: "Decades ago, scientists first harnessed the echoes of earthquakes to make a map of Earth's deep interior. They didn't just find the onion layers you might remember from a grade school textbook — core and mantle covered by a cracked crust. Instead, they saw the vague outlines of two vast anomalies, unknown forms staring back from the abyss. Over the years, better maps kept showing the same bloblike features.
"In July, a team led by Curtis Williams, published simulations that traced the plumes under hot spots back down through the flowing mantle. They found that these plumes reach all the way to the blobs, and bring unique chemistry up with them. 'Whatever part of the mantle [the plumes are] coming from,' said Williams, 'it's really old.'"
From the Atlantic: "Giant, Mysterious Blobs Are Lurking at the Edge of Earth's Core"
From EOS: "Ground shaking in Southern California, including a magnitude 7.1 temblor, triggered a massive mobilization effort to collect seismological, geological, and geodetic data." Mike Oskin is part of a team that, starting in late July, flew a small aircraft to collect lidar observations.
 
The Louise H. Kellogg Chair in Geophysics
Professor Louise Kellogg gave copious time, energy, and support to her department, the campus, and the global scientific community during her three decades in the Department of Earth and Planetary Sciences. Professor Kellogg, who passed away in April, has been honored through a $2 million gift from her husband Douglas S. Neuhauser to establish the Louise H. Kellogg Chair in Geophysics. "Louise built bridges among communities with her multidisciplinary scientific vision, by reaching out and engaging the broader scientific community and her dedication to equity," Neuhauser stated.
From UC Davis News: Saturn's tiny, frozen moon Enceladus is a strange place. Just 300 miles across, the moon is thought to have an outer shell of ice covering a global ocean 20 miles deep, encasing a rocky core. Slashed across Enceladus' south pole are four straight, parallel fissures or "tiger stripes" from which water erupts. These fissures aren't quite like anything else in the solar system. "We want to know why the eruptions are located at the south pole as opposed to some other place on Enceladus, how these eruptions can be sustained over long periods of time and finally why these eruptions are emanating from regularly spaced cracks," said Max Rudolph
From UC Davis News: "Ten faculty members have been elected as fellows of the American Association for the Advancement of Science. They are among 443 new fellows elected this year, honored for their efforts to advance science or its applications." Sarah Stewart was elected for her distinguished work advancing the theory of how celestial collisions give rise to planets and moons, which provides a comprehensive basis for understanding planet formation.
Prized Writing, published by the University Writing Program, or UWP, in the College of Letters and Science, showcases nonfiction works by undergraduates in disciplines all across campus. James "Huck" Rees, who graduated in 2018 with a degree in geology, is featured in Prized Writing (2019-2020).
From GeoSpace: "Ancient, distinct, continent-sized regions of rocks, isolated since before the collision that created the Moon 4.5 billion years ago, exist hundreds of miles below the Earth's crust, offering a window into the building blocks of our planet, according to new research. The new study in the AGU Journal Geochemistry, Geophysics, Geosystems used models to trace the location and origin of volcanic rock samples found throughout the world back to two solid continents in the deep mantle. The new research suggests the specific giant rock regions have existed for 4.5 billion years, since Earth's beginning." Curtis Williams is lead author of the study, with Sujoy Mukhopadhyay, Max Rudolph and Barbara Romanowicz (UC Berkeley).
Mike Oskin | 2019 Best Paper Award, GSA Structure and Tectonics Division
 A 2016 paper co-authored by Mike Oskin, John Fletcher and Orlando Teran (Fletcher et al., 2016) will be honored with the 2019 Best Paper Award at the Structure and Tectonics Division meeting during the GSA 2019 Annual Meeting. This paper laid out what they call the 'Keystone Fault Hypothesis' for control of crustal stress, inspired by faulting and aftershock data from the 2010 El Mayor-Cucapah Earthquake.
Researchers present a new paradigm for understanding how pressures in planets evolve. "Previous studies have incorrectly assumed that a planet's internal pressure is simply a function of the mass of the planet, and so it increases continuously as the planet grows. What we've shown is that the pressure can temporarily change after a major impact, followed by a longer term increase in pressure as the post-impact body recovers. This finding has major implications for the planet's chemical structure and subsequent evolution," says Simon Lock, postdoctoral researcher at Caltech and lead author of a paper explaining the new model that was published by Science Advances. Lock authored the paper with colleague Sarah Stewart. 
The Gilbert Harris Award is given annually by the Paleontological Research Institution, in recognition of excellence in contributions to systematic paleontology, to a scientist who, through outstanding research and commitment to the centrality of systematics in paleontology, has made a significant contribution to the science. The award will be presented to Sandy Carlson at the annual Friends of PRI reception at the annual meeting of the Geological Society of America on Monday, September 23 at 5:30 pm in Phoenix.
From Sierra Club: : What ancient coral can tell us about climate change. The field of paleoclimatology—the study of past climate change on our planet—is booming. For Dr. Hill, the most critical answers are still waiting to be discovered.
 
Bill Casey has been named a 2019 American Chemical Society fellow. The new fellows will be feted at the society's fall national meeting in San Diego in August. The fellows program began in 2008 as a way to recognize and honor ACS members for outstanding achievements in and contributions to science, the profession, and ACS.
 
Navrotskyite, a uranium-bearing mineral found underground in Utah's Blue Lizard mine, was named for Distinguished Professor Alexandra Navrotsky. Navrotskyite resembles fiber-optic bundles, with tight clusters of needle-shaped crystals. A physical chemist, geochemist and materials scientist, Navrotsky is director of the Nanomaterials in the Environment, Agriculture and Technology (NEAT) organized research unit and the Peter A. Rock Thermochemistry Laboratory at UC Davis.
From Nautilus: The Apollo missions were a giant leap for science. Nautilus spoke to Sarah Stewart last year about the scientific significance of the Apollo lunar landings, as well as how her laboratory experiments, which replicate the pressures and temperatures of planetary collisions, informed her model of the moon's birth. Stewart's bold vision grows out a love for science planted in high school in O'Fallon, Illinois. "I had phenomenal math and physics teachers," she said. "So when I went to college, I wanted to be a physics major." At Harvard, where she studied astronomy and physics, "I met amazing scientists, and that sparked a whole career."
From Quanta magazine: Theories about how animals became multicellular are shifting as researchers find greater complexity in our single-celled ancestors. 
David Gold, who was not involved in the study, comments on the findings.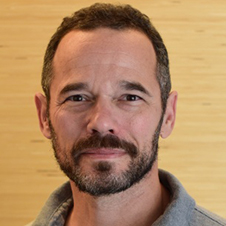 Nicholas Pinter | A flood forced this town to move. It could be a model for others hit by the climate crisis
From CNN: "It's estimated that something like a third of US communities will face increased risk of flooding by the middle of the century," Pinter explained.
From UC Davis: Climate change and sea-level rise are bringing more water to people's doorsteps, threatening communities from Midwestern America to Jakarta, Indonesia. Entire towns are moving to escape rising waters. But how do towns address these growing threats and still retain their sense of community? To find out, flood expert Nicholas Pinter and his team are visiting dozens of communities across the Midwest  that have moved entirely off the floodplain in a concept called "managed retreat." Read the full, multimedia story of two of those towns — one in Illinois, the other in Wisconsin — at UC Davis Science & Climate, www.climatechange.ucdavis.edu. 
From Quanta magazine:  After an interstellar asteroid shot past the sun, scientists realized that there's probably a lot of itinerant rocks out there. Those stones are changing what we know about the birth of solar systems. Stewart studies a strange new planetary phase called a synestia, which she and Simon Lock, a planetary scientist now at the California Institute of Technology, proposed in 2017 to describe the formation of the moon. A synestia is a bloated, swollen cloud of vaporized rock shaped like a puffy bagel. In a synestia, the material that made the Earth and moon would have thoroughly mixed.
From the egghead: As our solar system was forming nearly four and a half billion years ago, a planet-sized object struck the early Earth, leading to the formation of the moon, possibly from a hot, spinning cloud of rock vapor called a synestia. But after the Earth and moon had condensed from the vapor, there was another phase of growth as meteorites crashed into both bodies.
 
UC Davis Live on Facebook. UC Davis professor Sarah Stewart, an expert on planet formation, discussed the significance of the 50th anniversary of the moon landing on UC Davis Live. Watch the video.

 
Mike Oskin | Prepare for an Earthquake
From KCRA 3: 4 Ways to Prepare for an Earthquake. There are more than 15,000 known faults in California, according to the California Earthquake Authority. Most Californians live within 30 miles of an active one. "It doesn't have to be scary," UC Davis professor of geology Mike Oskin said. "We are prepared in this state and every individual can do something to be prepared for themselves
From Fox 40: SoCal Earthquakes Renewed Interest in Early Warning App. Is It Coming to Sacramento? Moments before you even feel an earthquake, ShakeAlert is designed to give you a warning. There is no timeline for when the app will reach Sacramento. In the meantime, University of California, Davis professor of geology Michael Oskin recommends taking steps to prepare yourself. "One of the most predictable things about earthquakes is they have aftershocks, so they trigger more earthquakes around them," Oskin said.
From the Los Angeles Times: Afraid of the Big One? Consider Sacramento, which avoids the worst California quakes
From space.com: That may seem odd, given the two worlds' shared (and violent) history. About 4.5 billion years ago, a Mars-size planet dubbed Theia slammed into the proto-Earth, blasting huge amounts of material from both bodies into space. Some of this liberated stuff was incorporated into the bruised and battered Earth, and some coalesced to form the moon. Yin is a member of a research team — led by Meng-Hua Zhu, of the Macau University of Science and Technology in China — that used computer simulations to model millions of impacts on the moon.
From Fox 40: "Typically, major earthquakes like that have foreshocks and the small earthquake on July Fourth would have been classified as a foreshock of the 7.1 earthquake," said John Rundle who is a distinguished professor of physics and earth science at UC Davis. Rundle has studied earthquakes for years and says they're fairly difficult to predict.