The Department of Earth and Planetary Sciences nominates undergraduates each year for scholarships and awards based on high achievement, involvement in co-curricular endeavors, and potential as a scientist.
Below are some of the awards and scholarships offered through the year and at graduation to some of the department's best students.
---
Departmental Honors. Students graduating from the College of Letters & Science are eligible for Departmental Honors, depending on their GPA and whether or not they complete a Senior Thesis.
Graduating with Honors. Students who graduate with a GPA in the top percentages of their college will automatically graduate with Honors.
Graduating with High or Highest Honors. Students who qualify for Honors at graduation may also be eligible for High or Highest honors, based upon the quality of their Senior Thesis (GEL 194A-194B) or Senior Honors Thesis (GEL 194HA-194HB). Students must have a qualifying GPA to be eligible to enroll in the Senior Honors Thesis (GEL 194HA-194HB). The thesis must span two quarters and be supervised by a faculty member in the Department of Earth and Planetary Sciences.
Association for Women Geoscientists Outstanding Senior Award. The Association for Women Geoscientists collects a nomination from the department each year for one outstanding female graduate. 
Department Citation and Citation for Outstanding Performance. These awards are given in the Spring to one graduating student each who has shown excellence in their classes and substantial contributions to the department.
Outstanding Senior Award. The Outstanding Senior Award is given each year to one graduating student from each major across campus, recognizing their "excellent academic achievement", "outstanding contribution to the academic environments through active involvement with faculty and fellow students", and "demonstrated leadership".
---
Everett Dale Jackson Memorial Scholarship. Everett Dale Jackson was an alumnus of the University of California and a distinguished geologist. He achieved international recognition in the areas of igneous petrology, volcanology, mineral deposits, lunar geology and ocean basin tectonics. He was also noted for the inspiration and encouragement he provided to younger scientists. The scholarship in his memory was established in 1980 by family and friends and is restricted to upper-division students majoring in geology. Apply in the Fall at the UC Davis Undergraduate Scholarships website.
---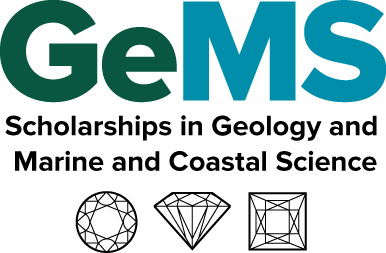 Scholarships in Geology and Marine and Coastal Science (GeMS)
The UC Davis Earth and Planetary Sciences department has funds from the National Science Foundation (S-STEM Program) for undergraduate scholarships of up to $8,000, potentially renewable for multiple years.
All awards are capped at the student's individual Financial Aid eligibility and may be limited by the availability of funding.
---
Robert A. Matthews Undergraduate Research Fund (MURF). Award for Undergraduate Students in the Geosciences. Robert A. Matthews (1926-2006) was the first environmental geologist hired in the Department of Geology (now Earth and Planetary Sciences) at UC Davis. In 2000, in recognition of his close involvement with students throughout his academic career, campus named one of the five courts at The Colleges at LaRue, a student residential complex, in his honor.
Robert A. Matthews Undergraduate Research Fund
MURF Supports undergraduate student activities, such as research and fieldwork, and encourages students to pursue study of the geologic sciences. Recipients need not meet any minimal GPA or other measure of scholastic attainment, but should show evidence of potential for future development.
Eligibility. Only students doing senior thesis research are eligible for funding. Applicants with financial needs other than their research will be handled on a case-by-case basis.
Applicants must be either full or part-time registered UC Davis undergraduates at the time their research is conducted. Students must be in good academic standing, meeting Satisfactory Academic Progress.
If the project is to be done over the summer, the recipient must be on continuing student status during that summer and is required to be an enrolled undergraduate at least the following fall quarter. Students who have received the Provost's Undergraduate Fellowship (PUF) in the same academic year are not eligible for this award.
Application Process. Submit all materials  as a PDF to Mandy Rousseau, Earth and Planetary Sciences staff advisor
Describe the proposed project by composing a brief account of the hypothesis you are testing, the methods that you intend to use, and the time frame of when the work will be accomplished.  Discuss the context of this project relative to other research projects by your faculty advisor. Provide at least 3 research citations in the body of the narrative and in the references. Length: One page, single spaced, 12 point font, Times/New Roman, half-inch margins. If necessary, references cited list may be included on a second page.
In a separate document, discuss the significance of this experience in relation to your academic and/or career plan. "Why this project? What do you plan to get from it?" Length: 1000 characters.
Detailed budget. 

Award requests may not exceed $300.
Salaries are not funded.
The awards committee within Earth and Planetary Sciences assumes that you will have access to labs and associated materials from the host principal investigator, as well as appropriate software and books commonly found on campus. Only specialized chemicals or supplies required for the proposed work are permitted. Requests for field costs, travel expenses, lab supplies, or other materials should be accompanied by a short justification.

Sponsoring Professor's Recommendation: Provide your completed application to your sponsoring professor or research mentor so that they can complete a letter of recommendation for you. They will submit their letter directly to Mandy Rousseau by email.
Deadlines. Applications will be accepted at any time during the academic year. Notification of the award will be made 2-3 weeks after submission.
Recipients of the Matthews award will be asked to submit a short summary of the results of their research within a year of receipt of the funds.
---
Provost's Undergraduate Fellowship (PUF). The Provost's Undergraduate Fellowship is a prestigious campus-wide fellowship awarded to students pursuing a research project, often a senior thesis, designed to help alleviate research costs.
---
Thomas W. Todd Scholarship. The Thomas W. Todd Scholarship is awarded annually to high-achieving students entering their senior year.
---
Durrell Funds. Geology majors can expect about $250 in funding to supplement the cost of Summer Field classes, from the Cordell & Helen Durrell Fund.
---
GIT Funding. Funding is available most years to current Geology majors to cover the cost of the Geologist-In-Training (GIT) exam. Applications for the GIT are usually due in early May for the October exam. You will only be able to be reimbursed after you have taken the exam, but you may request reimbursement as soon as you have applied. To request reimbursement for taking the GIT (limited to $200 total), please email Nancy at nmackaytaylor@ucdavis.edu with your full name, email address, and the following documentation:
GIT Exam Ticket: First and last name, Date of Exam, and Candidate ID number
GIT Exam form of payment: if paid via check, send a picture of the back and front of cancelled check (this can be found through your online banking account)
Fingerprinting receipt: showing fees paid and form of payment. If paid via check will need back and front copy of cancelled check.