Memories of Rand
Messages of sympathy and memories of Rand may be sent to memories-of-rand@ucdavis.edu.
If you wish to have your message included on this web page, please let us know.
---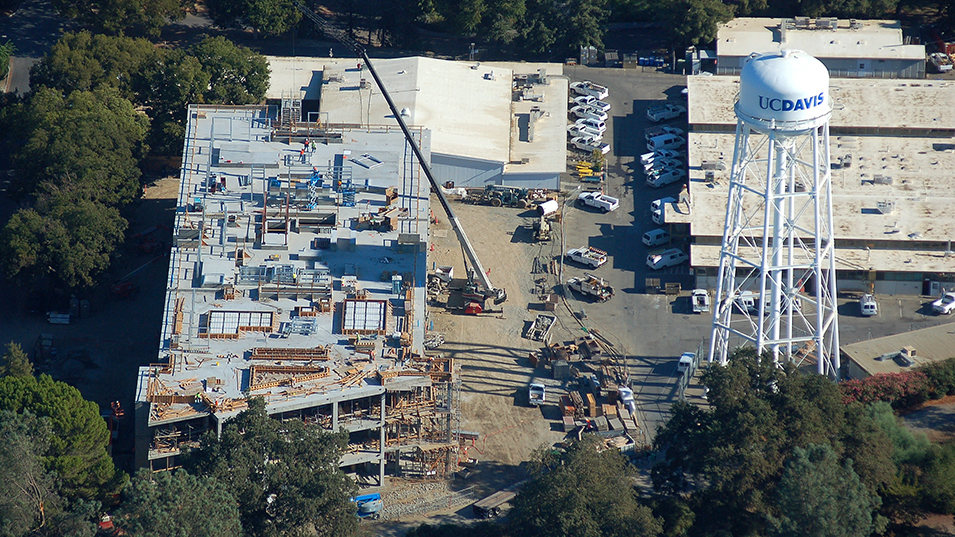 September 2015
Dear Friends and Members of Earth and Planetary Sciences,
The Department of Earth and Planetary Sciences—and the greater geology family—has lost a good friend. Rand Schaal unexpectedly and peacefully passed away overnight September 10-11, 2015 in Needles, California. He was traveling between his homes in Davis and Arizona. 
For those of us who had the great fortune to know and work with Rand, this is sad news indeed. Rand was a beloved member of our Department, receiving his B.S. in 1973 and Ph.D. in 1991, both in geology. After completing his doctoral degree, he became a celebrated teacher, specializing in general education courses that inspired and entertained thousands of undergraduates. His students—who adored him—bestowed on him the nickname "Moondude" for his love for planetary geology: a moniker he enjoyed greatly.
A legacy of Rand's commitment to teaching is present on campus—the Ted and Rand Schaal Auditorium in Warren and Leta Giedt Hall. Rand and his father donated the resources to equip this room to teach geology. Department members teach hundreds of students to think scientifically in this classroom every year. 
Rand also knew what all geologists know—the spark in understanding and appreciation of the earth sciences lies in the field. To that end, he created the Rand Schaal Field Fund, challenging alumni to match his contributions to support the Department's efforts to get students into the field. That fund has supported many undergraduate and graduate students in their fieldwork over many years.
Rand and his father were also generous contributors to the campus. Rand was an avid, perhaps even obsessed, competitive swimmer. This passion for swimming and UC Davis led to a major gift to the campus to build the Ted and Rand Schaal Aquatics Center, which is used today by countless numbers of students. 
While Rand was generous in his support for the Department and campus, he will be most remembered for his generosity of spirit. If you met Rand, you met a friend. He always greeted you with a smile, a warm heart, and a goofy joke. This sense of fun persists in Rand's fiction; he finished writing and self-published "The Radon Trilogy" in August of this year, which features characters based on his friends. And if you had the great luck to spend time with him—especially flying around in his several planes—you always came away feeling great. That was Rand's special gift to all of us. 
The Department sends its condolences to Rand's family—his sister Connie and his father Ted and all who called him a friend.
Sincerely,
Dawn Sumner
PS: If you wish to share memories about Rand with his geological community, please send them to memories-of-rand@ucdavis.edu.
Go AGS!
- Dawn Sumner, Department Chair
---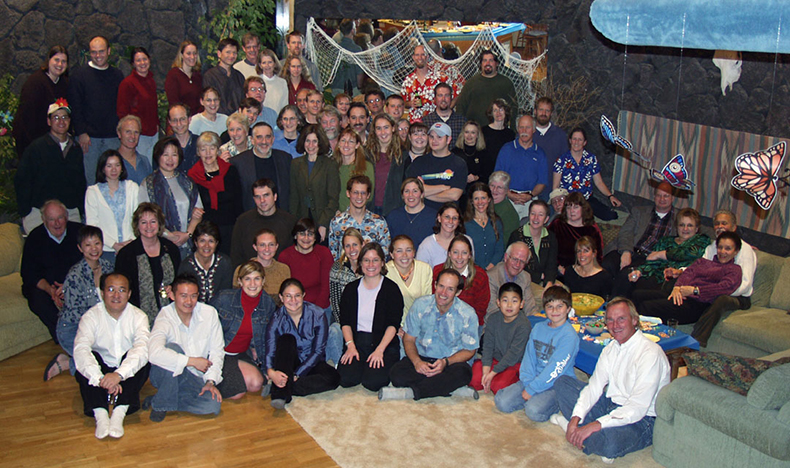 September 24, 2015
I first met Rand Schaal in the early 1970's, when he was enrolled in my structural geology and/or tectonics classes. From the first, he was a polite, deferential, humorous, bright, enthusiastic person. It was a pleasure to have him in the department.
After his work at UCLA and NASA, Rand returned to Davis to work on a Ph.D. in petrology, with Ian MacGregor as his major professor. As I remember, I was on his thesis committee. When Ian moved away from Davis, Rand was close to finishing his project, and I became Rand's "major professor of convenience", essentially reading and approving his thesis. He received his Ph.D. in 1991 for a study of Colorado Plateau eclogites. 
Rand was an avid aviator, with first a small plane and then a motorized glider. He also was an avid photographer, who made many very nice aerial shots. His slides of Oroville and Monticello Dams were memorable, particularly in the aftermath of the heavy rains of January, 1997. 
Rand suffered a stroke on Memorial Day, 1998, and worked hard at recuperation. It was after that incident that he took up flying in a motorized glider, as he learned that one didn't need a medical certificate to fly one. He took me up for a flight over the Sacramento Valley and the northern Coast Ranges--a memorable experience. 
Over the years we had become friends as well as colleagues. However, Rand always accorded me more deference than I thought necessary. Usually, he greeted me as "General", with a chuckle, and a disorganized or backwards salute. How could I not laugh? Not only was he great fun to be around, yearly parties at his commodious house off Road 99 were enjoyable occasions - including my retirement party on June 14, 2003. 
As we all know, Rand and his Father were very generous to the University, giving funds for the Schaal Pool, the Schaal Lecture Hall, and a field geology fund – all of which enhanced aspects of the university to the great benefit of many students in geology and across the campus
Rand was a fine person, a great friend. And I miss him.
- Eldridge Moores, Distinguished Professor Emeritus
---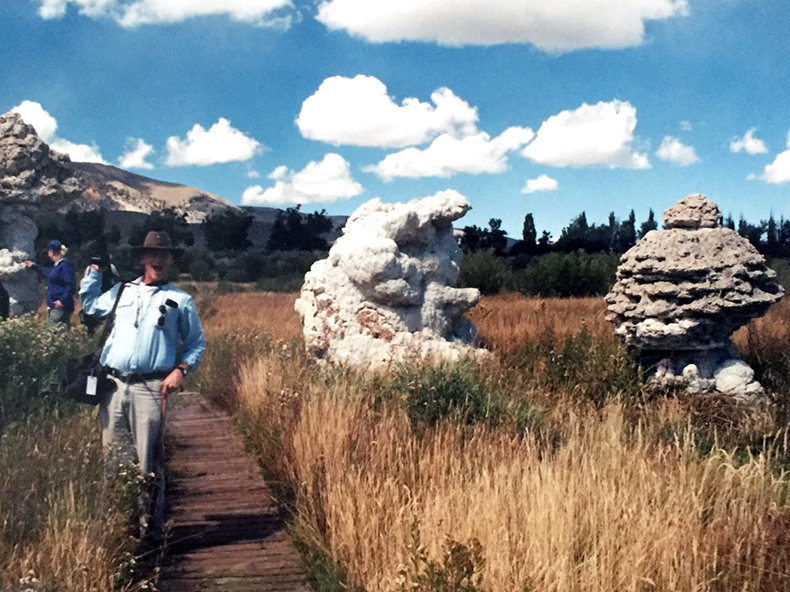 Rand at Mono Lake during the 1997 Fall Field Trip.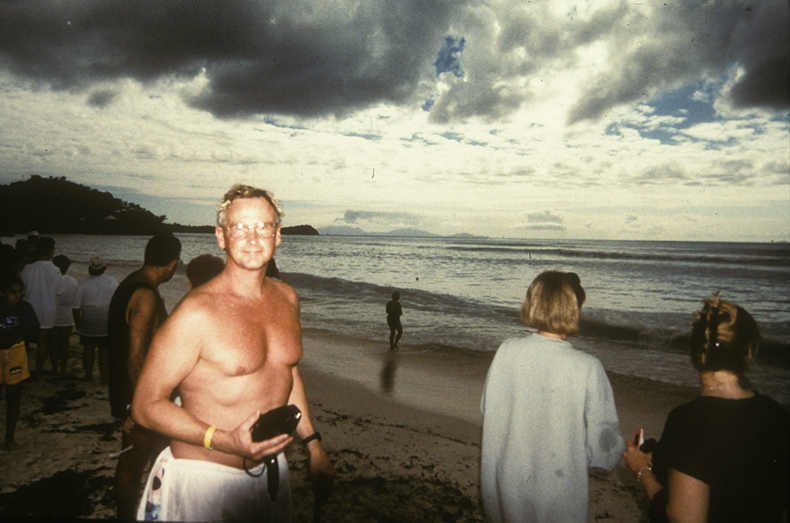 Rand Schaal on the beach on Antigua Island, Caribbean.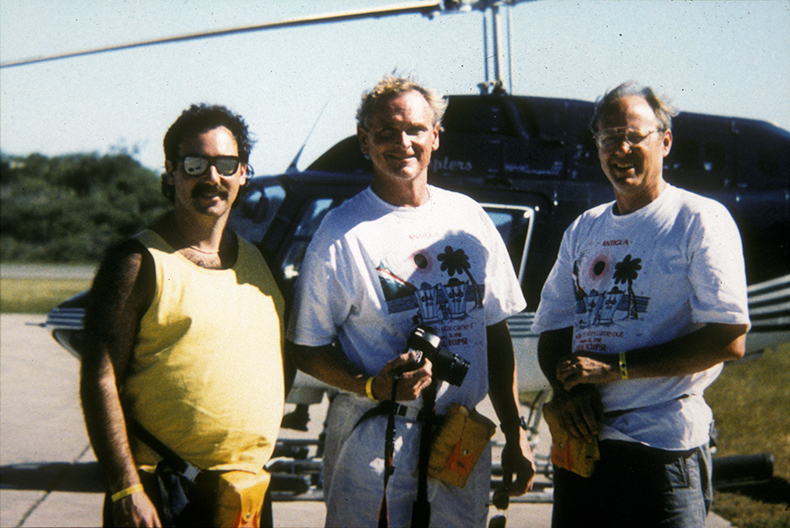 Howie Spero, Rand Schaal, and Rob Zierenberg preparing to board a helicopter to view the erupting Montserrat volcano.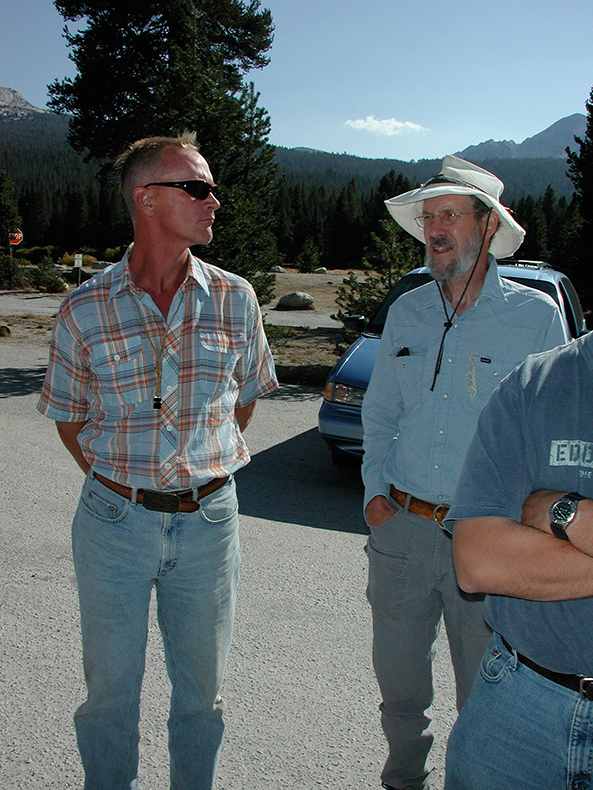 Rand Schaal and Rob Twiss in Tuolumne Meadow, Yosemite.
- Rob Zierenberg, Professor Emeritus
---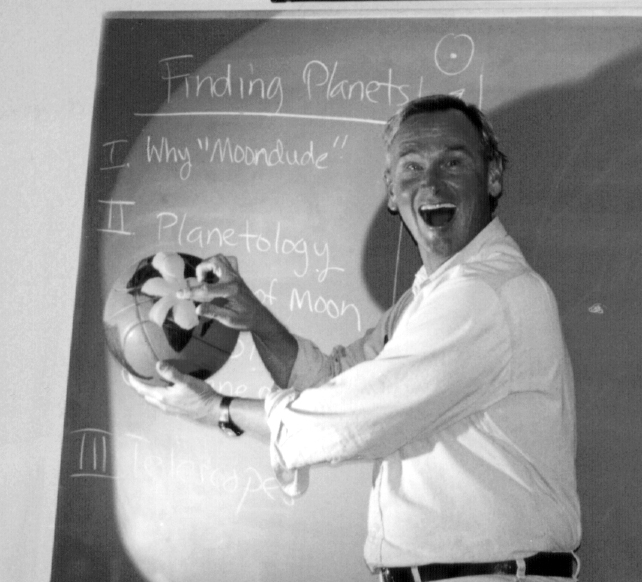 I was in Moondude's planetary geology class during the quarter that he had his stroke in 1998. I was very bummed when that happened because he was an awesome professor. (Still am kind of bummed to this day, really.) He was one of the best professors I had here and definitely in the top for being entertaining. We started classes on a Friday in spring quarter and he spent the first day showing us slides of various characters from "Star Trek: The Next Generation" (I think he was a fan of Beverly Crusher) because he knew that some folks would naturally ah, miss the first day of classes and that way those of us who did show up would be entertained and those who didn't wouldn't miss anything important! He also printed out his entire notes for the class—I think this was for free, actually!—ahead of time so nobody had to take notes and we could just enjoy the show. And he did put on an entertaining show, especially when he was talking about his beloved moon rocks. I only wish I'd gotten to see more of him.
- Jennifer R.
---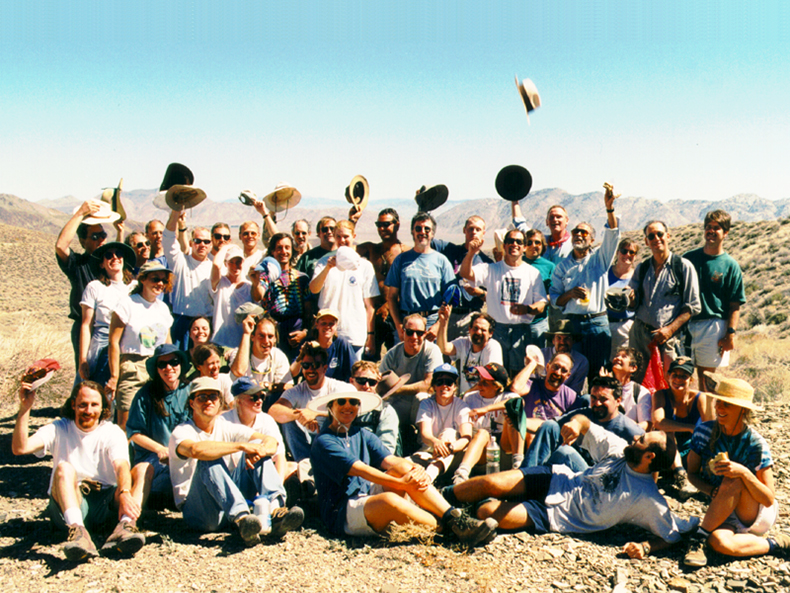 Rand Schaal was a unique person. A person not only of keen mind and intellect, but what most struck me most about Rand was his humanity, cheerful disposition, and appealing character. He was always warm, charming, friendly, and often playful or mischievous. You could always count on Rand for a laugh or a smile. I think he was ray of sunshine for all who crossed his path. Rand was the uncommon type of person that everybody liked. The world needs more people like Rand Schaal.
I first knew of Rand as an undergraduate in the late 1980s, but I first got to know him as a graduate student at UC Davis starting in 1990. We shared the large basement office for graduate students, and I can always remember Rand tempting us into playing darts, or inviting us to his house for movie night. To me, he not only came across as a human being of remarkable civility and warmness, but he seemed to give us all that sense of  camaraderie that made graduate school such a special place in time for me. At that moment in my life, Rand was not only a valued colleague and peer, but also a friend. I am grateful that we crossed paths, and I am sad for this loss and extend my sincere condolences to his family.
- Peter O., UC Davis: B.S. 1989, M.S. 1994
---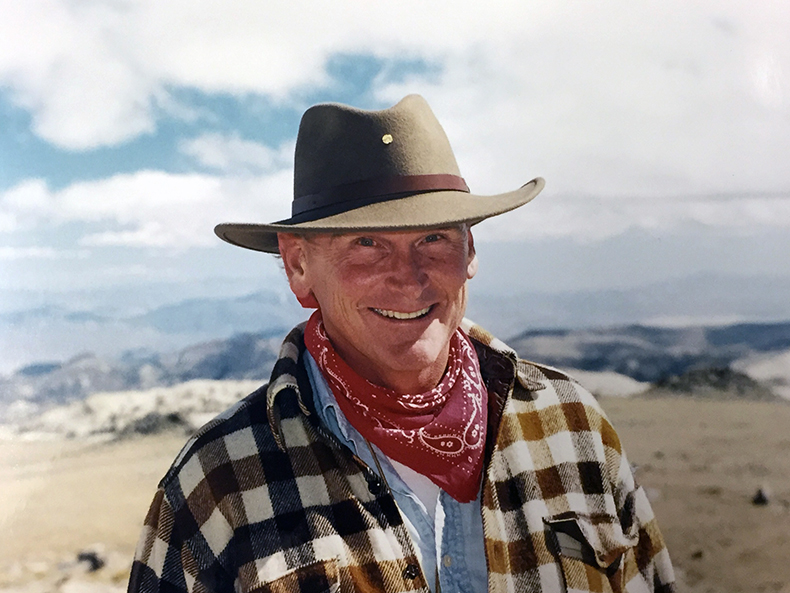 I first met Rand in the late 80s during the then traditional Friday afternoon beer-tasting hour. Back then, his office on the lower floor of the old geology building was known, among starting graduate students, as the best place to get advices and learn a trick or two on how to survive graduate school in Davis. Rand enjoyed organizing activities bringing together students and faculty members; I recall a couple of memorable Geology potluck parties that took place in his house.
Rand was a kind and cheerful person, always ready to help on many different topics, ranging on how to behave like a real Californian all the way to shock metamorphism. While working at NASA – Lockheed Co in the 70s, he collaborated to some of the first high-pressure gun experiments and co-authored key papers on shock effects in terrestrial and lunar basalts with Fred Hörz, one of the top brass in the field. In 1990, we obtained some the first samples recovered from the Cretaceous-Tertiary Boundary Chicxulub crater. Rand was enthusiastic about this research and willing to share his experience on planar deformation features and how to best analyze impact-melt rock, using the good-old Cameca SX50.
As the department initiated several large-scale general education classes, I had the chance to be a TA for Rand's famous Solar System class, which attracted a very large crowd of students and made the department chair very happy...Rand had amazing didactic skills. I remember him throwing basket- and tennis-balls around the class to teach students about the relative sizes of planets and satellites. He was a fantastic teacher capable to motivate economy and literature majors about lunar stratigraphy and its cratering record… 
Thanks to Rand, I followed the evolution of the Geology dept. though the alumni newsletter. Unfortunately, I had not seen Rand for many years but I know what he did for our University. Simply put it, he was a great guy; he left too soon.
- Philippe Claeys
---
The news that Rand Schaal has passed away is especially sad for me because he was one of my best and closest friends. It closes a friendship that originated at UC Davis (1970), continued at UCLA, where we were office mates, and in Houston, where Rand was doing shock metamorphism experiments at Johnson Space Center, and I was working at Shell Research. During that time, he was the best man at Susan and my 1977 wedding in Big Sur, California. 
Although I could expound on his scientific accomplishments and our many interesting geologic conversations, ranging from moons to eclogites, it was our close personal friendship that I think about at this time, of playing darts or Frisbee golf on campus, touring through the Yucatan Peninsula, flying in his ultra-light, or playing chess at his mini-vineyard in Davis. Rand never let the pressures of teaching or publishing get in the way of his enjoyment of life, and in so doing, made life better for those of us around him.
Susan, I, and our daughters, will miss him, but will always be proud of having a friend who left such a legacy to the institutions and people who were lucky enough to have known him.
- Terry K.
---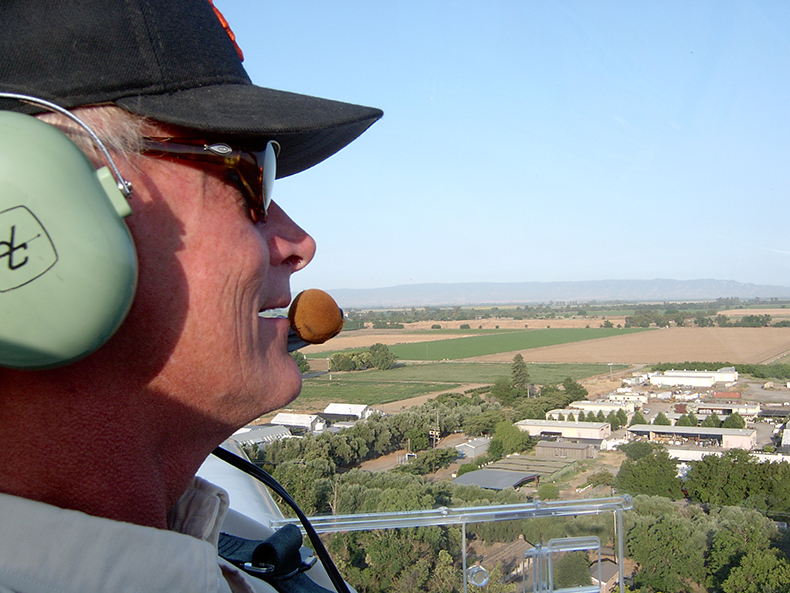 When I arrived from Germany in 1978 to become a Visiting Scientist at the Lunar and Planetary Institute in Houston, a place had been arranged for me in Rand's house. Less than a year senior, he immediately took responsibility by diligently improving my English skills, helping me to find a car and selling it again later, even arranging dates but most importantly introducing me to all his friends. We barely spent an evening at home, rallying from party to party.
During summer we went swimming at Galveston beach, we spent weekends in New Orleans and Big Bend, and a week on the Yucatan peninsula.  And I happened to be the airsick passenger during his first flight lessons. As a special treat Rand, his girlfriend and I transferred our neighbor's car from Houston to Reno, Nevada. We took the scenic route via Meteor crater, Grand Canyon, Las Vegas, had a short night rest under open skies in Death Valley, visited Mono Lake, and did a little gambling in Lake Tahoe, all within little more than 50 hrs. Rand's father picked us up in his airplane and I came to know Rand's family, brother, sister, parents and even his grandma. It was not my last visit to Santa Cruz, California, and I couldn't possibly have had a better introduction to the favorable sides of the USA.
Rand also impressed and shaped me by his ability to solve problems before they emerged. Whenever there was a task to do, he gladly volunteered for the least attractive part "I'll do it!" easing it up for everybody else to take their own work share. As inspiring and helpful as he was to his friends, his personal life was far from being perfect. His family suffered serious blows. When I asked him during a visit at UC Davis why he never got married, he admitted it was for health reasons. So he was rather striving for the virtue of solitude, much the same as he described for the hero in his books. It wasn't your fault, girls.
My last contact with Rand was some 12 months ago via email. I informed him about my upcoming retirement and he wrote back "It's funny; you quit work while I start a new career as a writer". This was truly him, always looking for new horizons be it as scientist, realtor, teacher, pilot or novelist.
I hope his new endeavor suits him. Take care, my friend!
- Rolf Ostertag, Germany
---
Originally published at www.ucdavisaggies.com
SCHAAL, 64, CHANGED THE FACE OF UC DAVIS
Aggies mourn beloved professor/alumnus for whom aquatics center is named
Sept. 28, 2015 DAVIS, Calif. - Dr. Rand B. Schaal, a UC Davis alumnus, former student-athlete, lecturer and benefactor, passed away during a road trip to Arizona earlier in September. He was 64. Rand and his father, Ted, are best known within the intercollegiate athletics community as the namesake of the Schaal Aquatics Center, the home of the university's water polo and swimming and diving programs.
Dr. Schaal attended UC Davis from 1969 to 1973, during which he competed as a member of the swim team under head coach Jerry Hinsdale. He earned his bachelor's degree in geology in 1973, added a master's degree from UCLA in 1976, then returned to his undergraduate alma mater, where he picked up his Ph.D in geology in 1991. During his pursuit of his doctorate, Dr. Schaal joined the geology department faculty as a lecturer. His students dubbed him "Moon Dude" because of his specialty in lunar rocks. He also founded the UC Davis Geology Department Alumni Association in 1988.
Throughout his career, Dr. Schaal's interest in swimming and aquatics never waned. He joined the Davis Aquatic Masters, and competed in open-water races throughout the 1980s and 1990s. On April 21, 1998, Rand and Ted made a $1.4 million donation to the university, $1 million of which was earmarked for an Olympic-sized swimming pool on the south end of the campus. This gift was the most sizable of Dr. Schaal's many philanthropic efforts for both the geology and intercollegiate athletics departments at UC Davis.
"That gift brought the best pool not just to our campus, but to our community and our region. It's certainly the best pool in the county," said head women's water polo coach Jamey Wright, who has also coached women's swimming and men's water polo during his 33-year career. "Rand clearly understood the need for a 50-meter pool. I think teaching here gave him the unique position of knowing the students, and knowing the campus and its mission. He was more in touch with the athletics department because he was on campus. Rand had a passion for aquatics, an understanding of the needs of the community, and an appreciation and love for UC Davis."
Additionally, that donation — the largest to Aggie athletics at that time — served as a lead gift that sparked the 1999 Facilities and Campus Enhancement Initiative. Passed overwhelmingly by student vote that February, FACE funds what is now Schaal Aquatics Center, Aggie Stadium, and the Activities & Recreation Center. According to Greg Warzecka, the UC Davis director of athletics from 1995 to 2011, Schaal's generosity affected not only the aquatics student-athletes, but all members of the campus community. 
"Rand's gift launched an era that created a focus on facility improvements that would benefit future generations of students," said Warzecka. "It spurred that 1999 initiative. It got people's attention. He hoped that it would create a 'wow' effect for students, future students, alumni, staff and faculty.
Dr. Schaal suffered a major stroke during the year between his and his father's gift to the university and the passage of FACE. He was forced to retire from lecturing in the geology department and temporarily halted his other pastime of piloting airplanes. However, that did not slow his dedication to UC Davis aquatics. He continued to attend water polo games and swim meets at the facility that bore his name, and even volunteered on the timing crew for latter events. Though his speech was slurred, his step slowed and his typing largely limited to one hand, Dr. Schaal's mind remained sharp: he authored a trilogy of adventure novels for young adults in which the titular character was — appropriately — a geologist/pilot who explored coastal California and the U.S. Southwest.
Dr. Schaal resided to Arizona after retiring from the real estate business in 2012. He continued to make frequent trips to Davis to visit friends and family, and to take in an Aggie swim meet or water polo game.