Peter Schiffman | 1951-2023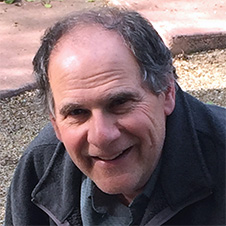 It is with great sadness that we share with you that Professor Emeritus Peter Schiffman, passed away suddenly on May 26th, 2023. Peter was a field geologist, petrologist and geochemist, and his research largely focused on hydrothermal systems (active and ancient). In addition, he served as department chair and was for many years the director of the microprobe facility. He was also an avid fan of playing and listening to music, and an upbeat and cheerful presence in the department. He will be sorely missed.
Peter's family will be setting up a memorial fund honoring Peter in lieu of flowers. More information will be posted here when that is available.
---
Peter's daughter Mimi Schiffman wrote the following bio, which she gave us permission to share:
On May 26th, 2023 Peter Schiffman woke before the sun, called his dog and "granddog" to join him in bed for an extended pet. Though he had been experiencing discomfort, he clocked four dog walks before 10am. Peter met with neighbors to watch the dogs and his granddaughter Sierra play.
No one knew that morning would be his last. The dogs were showered with affection, he made a coffee for Marilyn, graciously accepted tiny paper gifts from Sierra, listened to music and touched base with friends. He spent his final hours setting his schedule to the pace of those around him. Though we all hoped we'd get 30 more years in his company, I'm not sure he'd have wanted to spend his final hours any other way.
Born in Brooklyn, Peter grew up in the New York suburbs, one of four brothers. He was the product of a hard-working, devoted father and a socially active, creative mother. Peter spent his childhood hiking and skiing in the Berkshires of Massachusetts, laying the foundation for a real connection to the earth. He attended Searles and Mount Everett Regional High schools, graduating from Berkshire School.
Peter was an eternally curious, seeker of collective joy, steward of animals and the earth, maker and connoisseur of music.
He was a deeply committed husband, father, brother, friend, neighbor and die-hard fan of dogs.
Nicknamed "Uncle Dog Talk" by some in the family, Peter's regard for the canine species was unparalleled.
He meticulously mapped the cats and dogs that lived on the block and kept that record on the fridge.
Peter built a carpeted lookout in the back of the house for the dogs of the neighborhood to climb and watch the wildlife on the arboretum, taking care to put up the sun shade on hot days. Peter commissioned knee-high iron windows for when they didn't feel like making the ascent.
Peter was an important part of the folk and roots music scene in the Davis area, a devotee of the Palms Playhouse, and wrote a column covering musical happenings for the Davis Enterprise. He co-hosted the Saturday Morning Folk Show on KDVS and years later joined Bill Wagman in hosting the Folk Brothers at KDRT. An avid fan of live music, Peter saw thousands of shows in his 40 years in Davis - most often in the company of his friends Bill Wagman and Robert "Z" Zierenberg.
Peter attended Union College in Schenectady, New York. In his sophomore year he left for Scotland to spend a year at the University of Edinburgh. Time spent in the midst of the ancient volcano, Arthur's Seat, and in the company of some passionate geology professors, changed his life forever.
Peter went on to get a PHD from Stanford University. One day on campus he asked a pretty, long-haired graduate student for directions. She gave him directions and her name - Marilyn Gee. Within two years she took his name and they went to Houston together where Peter completed a post doctorate at the Houston Space Center studying moon rocks.
Peter and Marilyn moved to Davis in 1983 where he taught geology and became an internationally respected research scientist at UCD until his retirement in 2011…and for a few years after.
His work never truly ended - he recently co-authored the first field guide to the Berryessa Snow Mountain National Monument.
Peter was a hiker, a marathoner, a cyclist and a big fan of walks of any length with any number of pals or dogs. He loved to travel and made many joyful trips with Marilyn around the world.
Despite his busy lifestyle he always made time for a long sit on the porch with the neighbors he so loved in Aggie Village.
He's survived by his wife, Marilyn Schiffman, his daughter Mimi Schiffman and her husband Peter Bell, his granddaughter Sierra Bell Schiffman, his three brothers that he adored: Stephen Schiffman and his wife Lisa Schiffman, Hank Schiffman and his wife Georgia Tetradis, Ted Lee Schiffman and his wife Kathy Schiffman. He also leaves behind a whole host of dogs who know him as grandpa, including Finn and Henry.
Peter left the world in a hurry on May 26th, leaving holes in hearts all over the world and a tear in the fabric of so many communities he was a part of. He was a gentle man who shared his loving heart with everyone. Let's all try to fit in some time each day to reach out to a friend, say hi to a neighbor and pet a dog.
---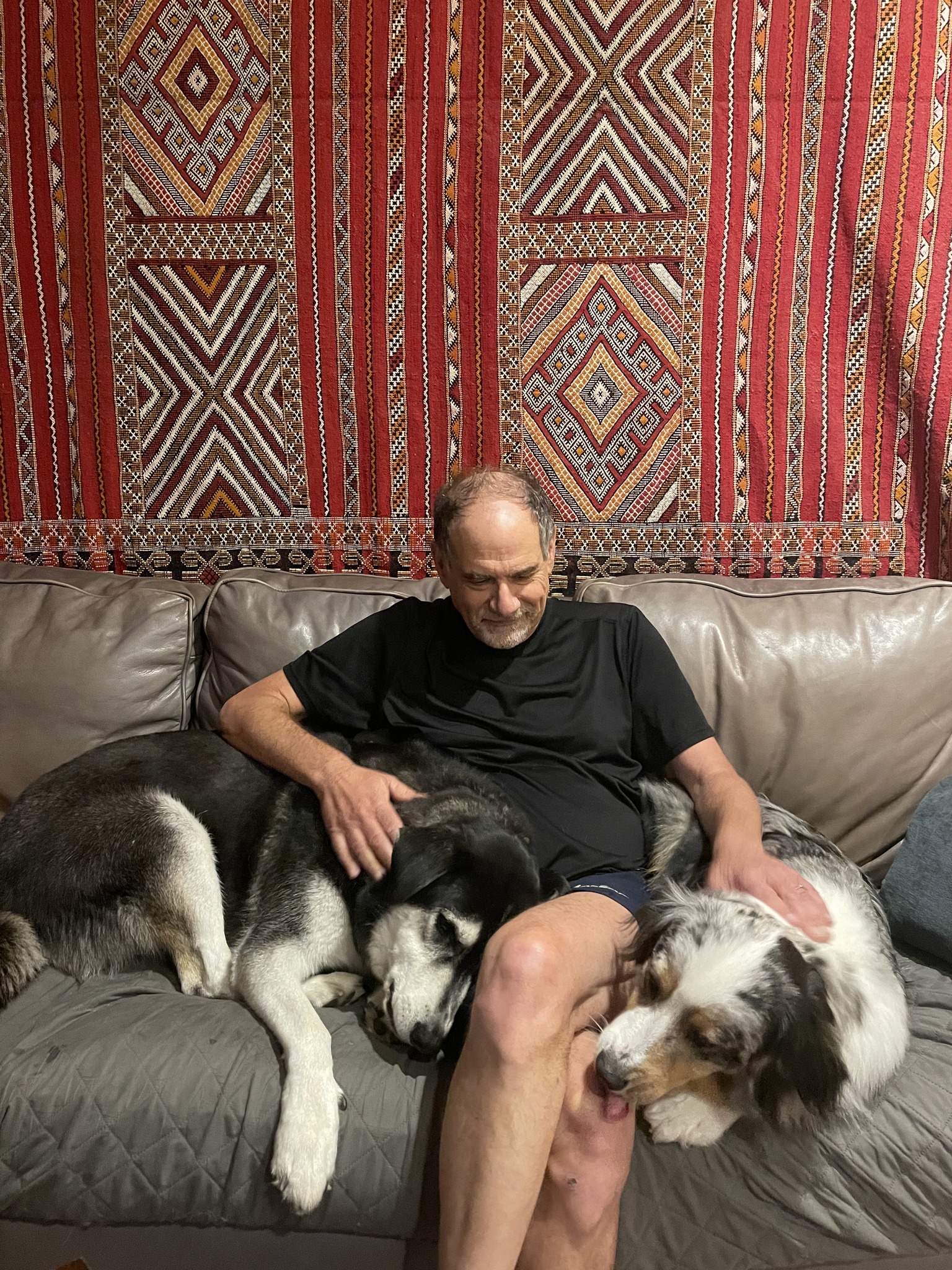 ---
Messages of sympathy and memories of Peter may be sent to memories-of-peter@ucdavis.edu.
If you wish to have your message included on this webpage, please let us know.